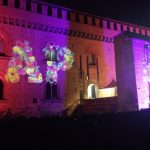 AUTUNNO PAVESE is the largest food and wine event in the Province of Pavia. In the last two years, the University of Pavia has joined the event by showing citizens research conducted in this field.
As precision farming was one of the most rising topics in the last years, the Laboratory of Geomatics was present at the event with its drones and sensors.
The detailed knowledge of the territory is fundamental in precision agriculture and the optical, multispectral and hyperspectral imagery acquired by drones, aeroplanes and satellites fulfill this aim.
See the full gallery on our Flick account.